 REFLECTIONS™


Remodel Decorative
Recessed Downlights
Award-winning, patent-pending innovative design
Reduced-Glare, Indirect LED General Illumination
Five Decorative Dome Designs
Flanged Remodel or Flangeless Remodel Aperature Options: 5", 8" or 12"
New LED Decorative Recessed
ELEMENT Reflections Remodel redefines recessed lighting at a fundamental level by allowing LED downlights to become an essential architectural component as well as a decorative design element. A choice of five distinctive domes, molded with exquisitely embossed design details, subtly accent architectural themes with beautiful and abundant glare–free LED general illumination while creating a soft ceiling glow. Additionally, ELEMENT Reflections Remodel is dimmable for enhanced mood setting options. Ideal for residential, hospitality, or senior living environments, ELEMENT Reflections Remodel lets recessed downlights infuse an interior design with style and taste while delivering pristine LED indirect illumination.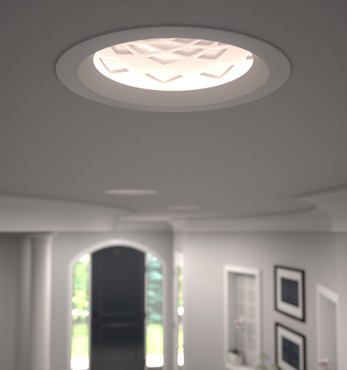 Decorative Dome Designs
Carefully crafted ELEMENT Reflections Remodel domes (available in 5", 8" and 12" diameters) are recessed into the ceiling plane and act as reflectors to a completely hidden ring of up–firing LEDs that deliver perfectly controlled indirect illumination. The play of light and shadow highlights the range of stylized dome designs while reducing overall glare. ELEMENT Reflection Remodel domes also offer two ceiling appearance options: flanged for a more traditional ceiling appearance; or flangeless for a smooth, mudded–in ceiling appearance.
Torus transforms beautiful three-dimensional geometry for dramatic visual interest with the subtle play of light and shadow

Bloom brings the geometry of the natural world into harmony with traditional, transitional, or contemporary room decors

Dune creates concentric rings of reflected light reminiscent of rippling water or waves of sand

Fleur reimagines the traditional Fleur di Lis adding distinctive, glowing accents to classic ceiling details

Skye lives simply unadorned, where pure, reduced–glare indirect illumination is the ideal solution

Product Information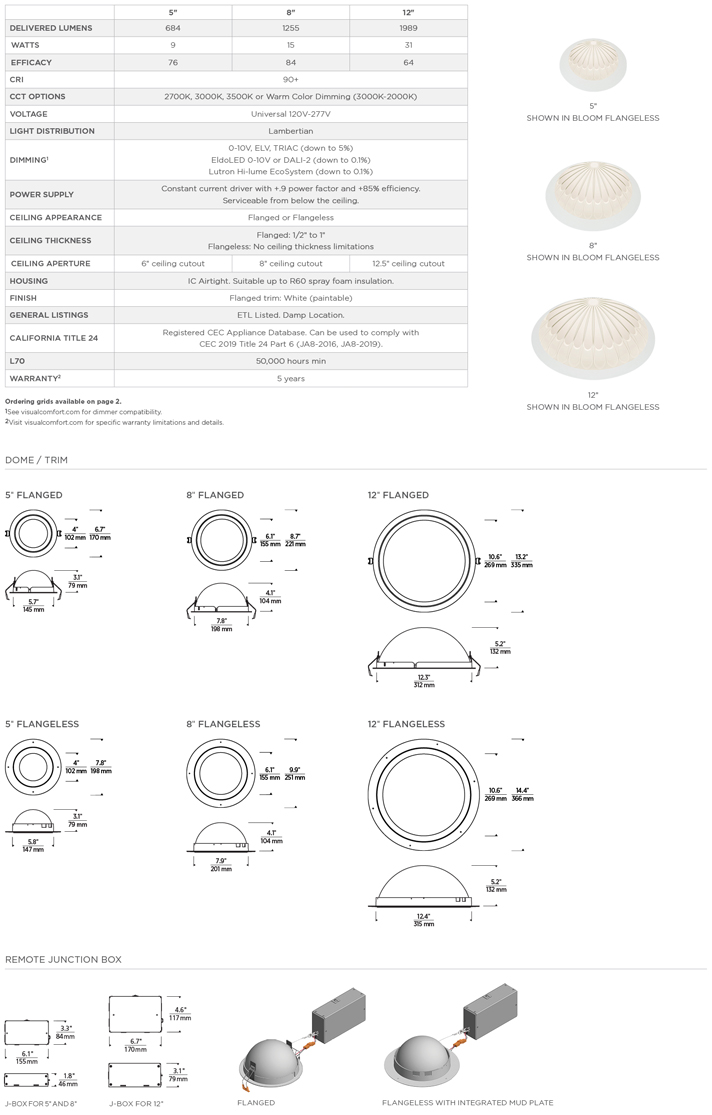 Dimming
ELEMENT Reflections 5-inch

DIMMER

PART NUMBER

FIXTURES PER DIMMER

MEASURED LIGHT
OUTPUT RANGE

COMMENTS

Triac
(Forbes & Lomax)
FLR603P
Consult Dimmer Co.
100-12%
pop-on
ELV
(Insteon)
2477D
Consult Dimmer Co.
100-2%
C*L
(Legrand)
HCL45-3PW
Consult Dimmer Co.
100-15%
pop-on
Triac
(Lutron)
AY-600P-WH
Consult Dimmer Co.
100-17%
Triac
(Lutron)
D-600P-WH
Consult Dimmer Co.
100-3%
flicker below 3%
C*L
(Lutron)
DSL06-1LZ
Consult Dimmer Co.
100-8%
Triac
(Lutron)
DV-600P
Consult Dimmer Co.
100-11%
C*L
(Lutron)
DVCL-153P
Consult Dimmer Co.
100-1%
ELV
(Lutron)
DVELV-300P
Consult Dimmer
100-7%
Triac
(Lutron)
GL-600P-WH
Consult Dimmer Co.
100-11%
ELV
(Lutron)
HQRD-6NA
Consult Dimmer Co.
100-2%
pop-on
Triac
(Lutron)
MA-600-WH
N/A
Flicker
Not recommended
C*L
(Lutron)
MACL-153M
Consult Dimmer Co.
100-10%
ELV
(Lutron)
MAELV-600
Consult Dimmer Co.
100-2%
pop-on
ELV
(Lutron)
MRF-2-6ELV-120
Consult Dimmer Co.
100-2%
pop-on
ELV
(Lutron)
NTELV-500
Consult Dimmer Co.
100-12%
C*L
(Lutron)
PD-6WCL
Consult Dimmer Co.
100-0.5%
Triac
(Lutron)
S-600P
Consult Dimmer Co.
100-13%
ELV
(Lutron)
SELV-300P
Consult Dimmer Co.
100-7%
C*L
(Lutron)
TGCL-153P
Consult Dimmer Co.
100-19%
ELEMENT Reflections 8-inch

DIMMER

PART NUMBER

FIXTURES PER DIMMER

MEASURED LIGHT
OUTPUT RANGE

COMMENTS

Triac
(Forbes & Lomax)
FLR603P
Consult Dimmer Co.
100-14%
ELV
(Insteon)
2477D
Consult Dimmer Co.
100-3%
C*L
(Legrand)
HCL45-3PW
Consult Dimmer Co.
100-17%
pop-on
Triac
(Lutron)
AY-600P-WH
Consult Dimmer Co.
100-23%
Triac
(Lutron)
D-600P-WH
Consult Dimmer Co.
100-4%
pop-on
C*L
(Lutron)
DSL06-1LZ
Consult Dimmer Co.
100-10%
Triac
(Lutron)
DV-600P
Consult Dimmer Co.
100-13%
C*L
(Lutron)
DVCL-153P
Consult Dimmer Co.
100-2%
flash on when turned on from dimmest level
ELV
(Lutron)
DVELV-300P
Consult Dimmer Co.
100-8%
Triac
(Lutron)
GL-600P-WH
Consult Dimmer Co.
100-15%
ELV
(Lutron)
HQRD-6NA
Consult Dimmer Co.
100-3%
Triac
(Lutron)
MA-600-WH
Consult Dimmer Co.
100-6%
C*L
(Lutron)
MACL-153M
Consult Dimmer Co.
100-12%
ELV
(Lutron)
MAELV-600
Consult Dimmer Co.
100-3%
ELV
(Lutron)
MRF-2-6ELV-120
Consult Dimmer Co.
100-3%
ELV
(Lutron)
NTELV-500
Consult Dimmer Co.
100-13%
C*L
(Lutron)
PD-6WCL
Consult Dimmer Co.
100-0.5%
ELV
(Lutron)
RRD-6NA
Consult Dimmer Co.
100-3%
Triac
(Lutron)
S-600P
Consult Dimmer Co.
100-16%
ELV
(Lutron)
SELV-300P
Consult Dimmer Co.
100-9%
C*L
(Lutron)
TGCL-153P
Consult Dimmer Co.
100-21%
ELEMENT Reflections 12-inch

DIMMER

PART NUMBER

FIXTURES PER DIMMER

MEASURED LIGHT
OUTPUT RANGE

COMMENTS

ELV
(Insteon)
2477D
Consult Dimmer Co.
100-20%
C*L
(Legrand)
HCL45-3PW
Consult Dimmer Co.
100-16%
Triac
(Lutron)
AY-600P-WH
Consult Dimmer Co.
100-18%
Triac
(Lutron)
D-600P-WH
Consult Dimmer Co.
100-7%
C*L
(Lutron)
DSL06-1LZ
Consult Dimmer Co.
100-10%
Triac
(Lutron)
DV-600P
Consult Dimmer Co.
100-12%
C*L
(Lutron)
DVCL-153P
Consult Dimmer Co.
100-2%
ELV
(Lutron)
DVELV-300P
Consult Dimmer Co.
100-8%
Triac
(Lutron)
GL-600P-WH
Consult Dimmer Co.
100-12%
ELV
(Lutron)
HQRD-6NA
Consult Dimmer Co.
100-3%
Triac
(Lutron)
MA-600-WH
Consult Dimmer Co.
100-5%
C*L
(Lutron)
MACL-153M
Consult Dimmer Co.
100-9%
ELV
(Lutron)
MAELV-600
Consult Dimmer Co.
100-3%
ELV
(Lutron)
MRF-2-6ELV-120
Consult Dimmer Co.
100-3%
ELV
(Lutron)
NTELV-500
Consult Dimmer Co.
100-12%
C*L
(Lutron)
PD-6WCL
Consult Dimmer Co.
100-0.5%
ELV
(Lutron)
RRD-6NA
Consult Dimmer Co.
100-3%
ELV
(Lutron)
RRD-6NA
Consult Dimmer Co.
100-2%
pop-on
Triac
(Lutron)
S-600P
Consult Dimmer Co.
100-13%
ELV
(Lutron)
SELV-300P
Consult Dimmer Co.
100-8%
C*L
(Lutron)
TGCL-153P
Consult Dimmer Co.
100-20%
slight flicker at dim
Applications