MERGE™ Suspended Linear System

MERGE™ Suspended Linear System
Whether being used to highlight architectural elements, enhance a room's size, or deliver well-controlled general illumination, patent-pending ELEMENT Merge puts the focus on the room and offers stunning design flexibility. Whether static white or programmable white, recessed lines of uniform, glare-free LED light can be designed to make 90° turns in the same place for enhanced architectural interest. To further the utility of this beautifully integrated linear lighting system, spot heads or pendants can be added directly into the channel at any point along its concealed low-voltage bus system for simultaneous accent or task illumination.

DESIGN FEATURES AND OPTIONS:
Downlight, uplight, and low-voltage track in one linear fixture
2 ft, 4 ft, 6 ft, and 8 ft gangable linear lengths with "L" connectors
Linear channel: Static white with multiple CRI and color temperature options or programmable white
3-Step or better color binning
Internal reflector finished with high reflectance matte white paint for even light distribution & optimal efficiency
Two spot head options: Gimbal and Drop-down
Twist-and-lock design allows LED adjustable spot heads to be placed anywhere along the bus channel
Multiple CRI, color temperature, and beam spread options
FreeJack connector allows the use of any Tech Lighting low-voltage head or pendant to be mounted along the integrated bus channel



The ELEMENT Merge Suspended LED linear system represents the marriage of indirect downlight, independent up light, and a track system; all in one system with independent control and outputs for optimal illumination and power conservation. With varying length components, Merge Suspended can be configured up to a continuous 80' run from a single feed. A 90º connector is also available for illuminated same-plane turns. Merge Gimbal or Drop Down Spots, or many Tech Lighting low-voltage heads or pendants (using the FreeJack connector) can be placed anywhere along the concealed low-voltage bus system for added versatility.

Specification Chart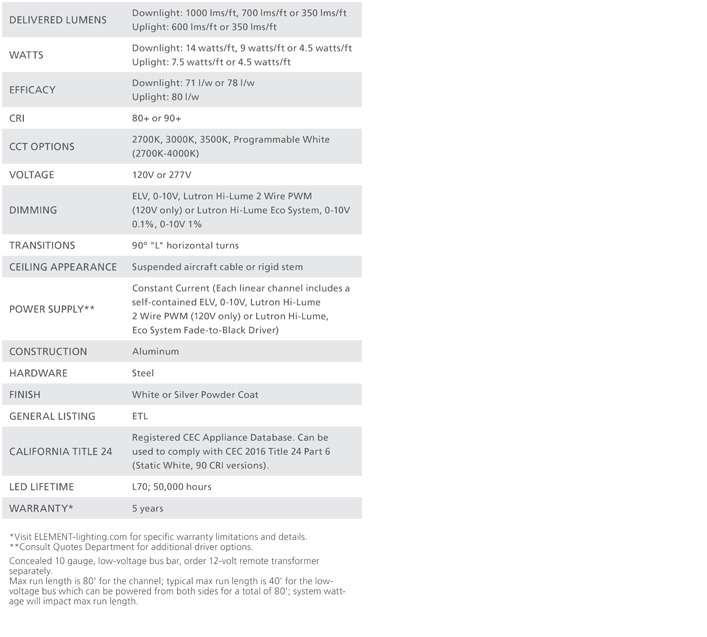 The ELEMENT Merge™ low-voltage bus system allows you to simply twist-and-lock LED adjustable spot heads anywhere along the channel for stunning design flexibility. Options for beam spread, mounting, and color temperature allow designers to specify a system tailored to exacting demands. The Merge Gimbal Spot does not break the ceiling plane for a smooth overall appearance. The Merge Drop-down Spot allows maximum aimability and utilizes Merge FJ connector. For further design options, the FJ connector allows any Tech Lighting low-voltage head or pendant to be mounted from the Merge system making it remarkably versatile.

SPECIFICATIONS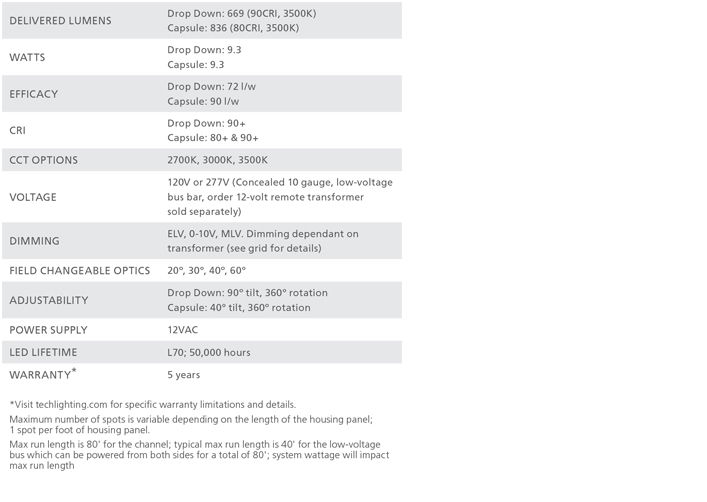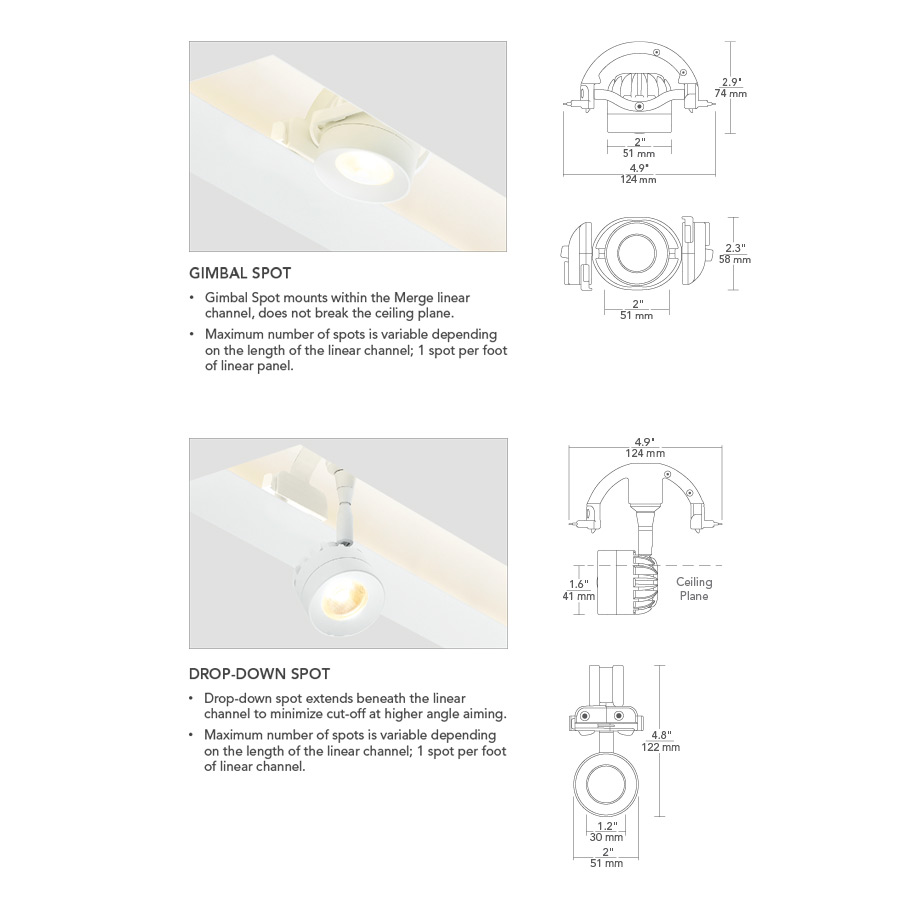 Creating a continuous uninterrupted line of beautiful, glare-free LED light, the ELEMENT Merge Suspended LED linear system inconspicuously puts light where it is needed. The continuous line aesthetic created by the ELEMENT Merge system is enhanced using a specifically engineered 90° turn connector. Lines of LED light can be designed to seamlessly make 90° same-plane turns for enhanced design interest while also allowing the option to add spot heads for accent and task lighting, all without adding more light fixtures to the space.

SPECIFICATIONS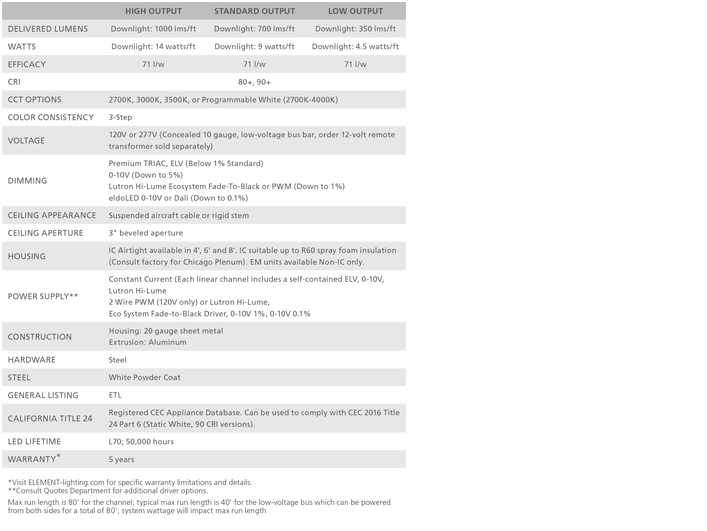 Applications